Yoga, Meditation and Deep Relaxation
Classes 2017

Classes are held at Kylie's Home Yoga Studio, 3 Shumack st. Weetangera. The classes are nice and small (maximum 14 people) and there's ample parking on the driveways off Shumack st. and Bambridge st.

Monday 6:30pm - 8:00pm
Tuesday 6:30pm - 8:00pm
Wednesday 6:30pm - 8:00pm
Friday 9:30am - 11:00am
Saturday 9:00am - 10:30am
These lovely 90 minute classes include an activation, an Energy Block Release Sequence (EBR), often another Sequence (time permitting), Asanas (postures), a beautiful 20 min Deep Relaxation, Pranayam (breathing techniques) and then a short Meditation to finish up.
All of these classes are suitable for beginners, and can be modified for people with illness, injuries, and physical limitations.
There is absolutely no previous experience required. And the classes also cater for all fitness and mobility levels.
Please read for more information on the flexibility and benefits of Dru Yoga.
For your yoga/meditation class, wear comfortable clothing, bring a drink bottle, a pillow to sit on for meditation (chairs and some blankets are available to sit on if needed), and an open mind.
Testimonials for Kylie's Dru Yoga Classes
In the 6 months I have been attending Kylie's Tuesday evening yoga session, I have improved my physical health and my personal outlook is filled with positivity, self-confidence and happiness. Kylie encourages all members of the class, gives insight into what is happening around us and ensures that we are all comfortable and at ease. Tuesday is the highlight of our week and I wouldn't hesitate to recommend Kylie's sessions to anyone. Belinda (Public Servant - Canberra)
I love my weekly yoga experience and the effect on me has been profound. I am more grounded, calm and relaxed. When I walk out of a session I feel like I am floating on air. Carolyn (Public Servant - Canberra)
Yoga started as a flexibility, back strengthening and exercise in my retirement. But it has also given me rewards in friendships with like-minded people and renewal strength and faith for managing past and future aspects of life. Helen (Retired nurse - Canberra)
Doing yoga regularly has been very beneficial. Kylie clearly explains how to perform the postures and the benefits we receive from each EBR. Kylie's yoga studio has a great atmosphere and Kylie is an encouraging and supportive teacher Fiona (Teacher - Canberra)
I attend Kylie's Dru yoga sessions once a week. I have anxiety and I feel dru yoga is really helping to connect to my inner calm/peace. Kylie is such an uplifting person to be around and the yoga environment is always a calm, warm place to be. Thankyou Kylie. Laura (Barista - Canberra)
I began yoga with Kylie late last year. I come to class in a very agitated state and depart a lovely relaxed human being. Yoga is now a vital and positive aspect of my life. It is something that I look forward to on a weekly basis. Anne (retired)
I have been doing Dru yoga with Kylie for nearly six months. Since doing this, I have been able to find a space of calmness and clarity within myself even when I am facing challenging times. Kylie is amazing. She is a gentle, inclusive and intuitive yoga instructor. I recommend her classes highly. Larissa (Public Servant and mother of young child)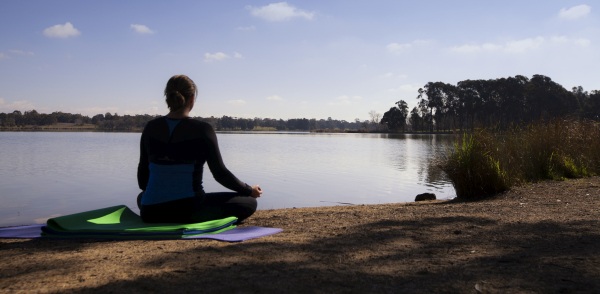 Calm your body and mind, and enjoy a specially formulated guided meditation. No previous experience required. Suitable for all ages, abilities and levels of fitness and concentration.
These classes were held 6:30pm – 7:45pm every Thursday evening starting Thursday 19th Jan 2017. They have been cancelled at this stage.
All are welcome!
In the first 45 mins, we go through a sequence of simple yet very effective techniques including yoga postures (asanas), breathing techniques (pranayama), deep relaxation, and hand gestures (mudras) that allow your body and mind to be in the most optimum state for meditation.
The class varies each week to give you a good cross-section of techniques that you can use on a daily basis to calm your body and mind.
And once your mind is more cleared from the clutter (stress/ anxiety/ overthinking) from your week, and your body is more relaxed and restful, you're taken through a 30 minute – 3 stage guided meditation.
Most people find that the 30 minute guided meditation goes by surprisingly quickly and is very easy and relaxing to sit through.
The theme of each weekly meditation will be based on what's happening on the planet astrologically and numerologically. If there's a full moon, a new moon, a solar or lunar eclipse, or any other planetary influence of note, Kylie will formulate the meditation that best suits that current energetic environment.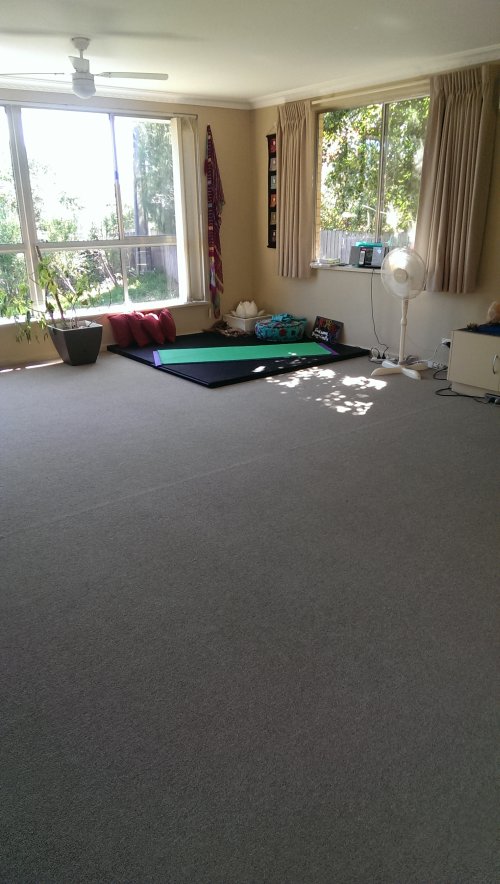 You don't need any previous experience at meditation (or yoga) to participate in, and enjoy the full benefits of this class.
You don't need to be able to sit on the floor, as meditation can easily be achieved sitting on a chair.
You don't need to be able to sit still for long periods of time. Kylie will show you ways to achieve a restful sitting position, on the floor or chair. But also encourages that you move your legs around and stretch if you start to feel uncomfortable.
You don't need to be able to "clear" your mind or concentrate for long periods of time to successfully meditate. Kylie will clear up many of the common myths and misconceptions about meditation, and will show you how easy it is to achieve a regular meditation routine, without all the fuss and stress.
These classes are completely suitable for beginners and also for those who meditate regularly.
Bookings are essential as there are limited spaces.
Cost = $20 casual visit OR $150 for a 10 class Meditation pass
Kylie will also be making some of the popular meditations available to purchase, for those interested in setting up a daily practice, as the weeks go by.
Bring a water bottle, comfortable clothing for some light yoga, a meditation pillow or blanket (if you have one - otherwise there are chairs, cushions, yoga mats and blankets at the studio).
SOME OF THE BENEFITS OF MEDITATION:
Boosts your HEALTH and HAPPINESS by increasing immune function and positive emotion, and decreasing pain, inflammation at the cellular level, depression, anxiety and stress.
Boosts your SOCIAL LIFE by increasing social connection and emotional intelligence, and making you more compassionate and feel less lonely.
Boosts your SELF-CONTROL by improving your ability to regulate your emotions and to introspect.
Changes your BRAIN (for the better) by increasing grey matter, volume in areas related to emotion regulation, positive emotions and self-control, and cortical thickness in areas related to paying attention.
Improves your PRODUCTIVITY by improving your focus and attention, ability to multi task, memory, and ability to be creative and think outside the box.
Kylie's little dog (Snowy) joins us for every yoga class. He's a Jack Russell cross Poodle. He's always very happy to see everyone and loves to fall asleep on the meditation pillow while class is on. Snowy is loved and enjoyed by many of our students. He's always good for a hug, if you are!
If you would like a yoga class at a different time to what's listed above, then fill out the form below to put your vote in for upcoming new class times in 2017!
PRICES
The 90 min Dru Yoga classes are $198 for 12 weeks, paid by the term. Or pro-rata if you start mid-term. ($23 casual attendance).
Please note: You pay $198 which covers you for the term and the 2 weeks of holidays following that term. This payment reserves your regular spot, but also allows you to come to as many classes as you like (as long as there's a space available for you). To come to extra classes, you will need to message Kylie ahead of time, to see if there's a space. Classes run at half-load during the school holidays. You can also pay a $23 casual fee each week, if you prefer.
PAYMENT METHOD
Payments are to be made to Human Happiness via EFTPOS, Direct Deposit, PayPal or by cash.
Please contact Kylie for direct deposit account details.
Payment must be processed at least 24 hrs prior to the first lesson, or a transaction receipt provided.
For Bookings or to find out more about Yoga classes Contact Kylie.
Yoga Classes, Workshops, Seminars and Training Programs Terms & Conditions, Cancellation, Transfer and Refund policy
Before your first yoga class (and often during workshops etc.), you will be required to fill in a health form and sign a disclaimer indicating that you take full responsibility for your own health and wellbeing during the class and when you practise anything taught in the yoga classes/ workshops in another location.
Your instructor will give you clear indications and will demonstrate modifications for any health considerations, during the class. It is expected that you take note of these health considerations and the appropriate modifications for your own health and safety.
If you have any concern for your ability to attend a yoga class, it is advised that you consult your health professional prior to starting classes.
It is also expected that when attending a yoga class, that each student demonstrates respect for others in the class by allowing the class to flow without disruption, encouraging a peaceful, rejuvenating and relaxing environment. Light-hearted chit chat during warm ups is very welcomed. But any verbalisation of upsets that a student may be experiencing in life, is best left to a private conversation with the instructor before or after the class, or via text/ email at another time.
Term Payment of $198 (or pro rata) gives you:
A permanent booking in the yoga class of your choice for the term plus the holidays following (price is $234 for term 4 and the 6 weeks of summer holidays that follow term 4). Note that classes are offered at half load during school holidays and classes are still run on public holidays.
Opportunity to attend as many other classes each week as you like, FREE of charge, as long as there's a space available.
A saving of $5 per lesson = $55 saving per term. And extra savings if you attend extra classes at no extra cost.
Cancellation, Refund and Transfer policy
Once a student has made a payment for a term (or pro rata) for yoga classes or for a workshop/ training day/ seminar, this is a commitment to attend what they paid for.
Refund policy
A refund is only given if that participant has experienced exceptional circumstances after the time of the purchase.
Exceptional circumstances would include situations where the student has had an accident or a sudden illness that has prevented them from being able to drive themselves to class, made them bed-ridden, or a family trauma has occurred preventing them from being able to do everyday tasks.
Management reserves the right to request proof of this situation, if necessary.
Transfer policy
Students are welcome to transfer their yoga pass or workshop/seminar/ training attendance to another person (friend/ associate/ family member) at any time as long as management is informed.
Cancellation Policy
If a booking is made for a service, but full payment is not made prior to the commencement of this service, the following conditions apply:
Cancellation more than 24hrs prior to service = no charge (but a non-refundable deposit may already have been made)
Cancellation less than 24hrs prior to service = 20% of full cost of service
Cancellation after commencement time of service or a no-show = full cost of service.
Credit may also be given to the participant, at the discretion of management.
Yoga classes – extended leave/ weeks away/ transfer policy
With such an intimate studio, Human Happiness can only offer 12 permanent bookings per class. This makes it impractical to offer discounts to pensioners and to reserve a space for someone on extended leave.
To have a permanent spot in a class, a student needs to pay the full fee for the term ($198). If they plan to be away for an extended period and decide to not pay the term fee, they can choose to pay casual rates for the classes they attend if they prefer. This will however mean that their spot in the class is not reserved and they will need to message Kylie each week to see if there's enough space for them in the class.
They can of course, if they decide to purchase a permanent spot, transfer their spot to a friend for their time away if they like.
Also, unless there are exceptional circumstances (as per outlined in the refund policy), a yoga class term payment is non-transferrable (ie. It cannot be used for another service/ product that Human Happiness offers).
Send a request for the type of yoga class you want near you.