This retreat has been postponed until further notice due to a change in family circumstances at that time.
We apologise for any inconvenience.
The Crack your life's code and The System for Health, Wealth and Happiness courses however, are atill running to schedule.
Join a Retreat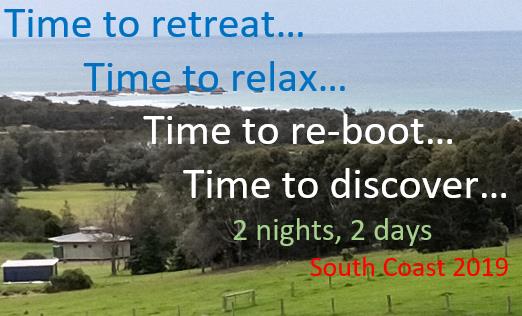 When?
18th/19th/20th Oct 2019
Arrive on the Friday afternoon/ evening.
Leave after 4pm on the Sunday.
Where?
Corunna Farm, Mystery Bay - South of Narooma
1hr South of Bateman's Bay
3hrs from Canberra
What's included in the package?
2 night's accommodation
Fully catered vegetarian meals from Fri night dinner to Sunday lunch. Tea, coffee and light snacks also catered for.
2 days of Dru Yoga (including Deep Relaxations and short Meditations), perfectly blended with a touch of Philosophy, Astrology, and Numerology, with a dash of delicious self-help tools. Presented in a carefully woven tapestry of self-nurturing delight!
This weekend date has been carefully chosen to align with a potentially very beneficial Astrological and Numerological combo, that Kylie will take full advantage of throughout the weekend (tailoring all activities to optimise this energy).
How much?
There's 3 different packages available, depending on which configuration of accommodation you choose.
Early Bird 20% Discount until midday 9th Feb!
Premium Package $550.00 per person
Share a double/King bed with one other person
Ensuite in your room
Deluxe Package $500 per person
Share double/bunk beds with 3 other people
Ensuite in your room
Standard Package $400 per person
Share double/bunk/single bed combo with 3 – 4 other people
Shared bathroom in main centre only short stroll from your yurt
For all packages, please BYO linen.
To book a room all to yourself, please contact Kylie directly.
Friends/partners/family members are very welcome to come and enjoy our accomodation and full menu, and opt out of the yoga at a discount price, negotiated directly with Kylie.
There are very limited places available on this retreat (particularly if you're interested in the Premium or Deluxe accommodation options). It's advised to book as soon as you can, to avoid missing out.
Early Bird Discount only available to full fee paying attendees. (Friends/partners/family members who are coming along just for accommodation and meals are already getting a discount in their package).
For 20% discount use the code YOGA20.
Corunna Farm Retreat
A sneak peak...