Kylie's Story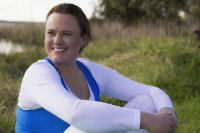 From as early as I can remember, I have experienced a strong desire to help others. To heal, comfort, teach and empower.
My childhood, like many, came with its challenges, and as a result, was a very good training ground for me to progress towards becoming a profoundly exceptional healer and teacher.
I initially pursued a career as a Maths, Physics and Chemistry Teacher.
During my 18 years of teaching in high schools, colleges, and university, a very noticeable pattern started to surface. I was a lot more interested in learning about the lives of my students and work colleagues, and giving them ways to change what they didn't like, than teaching a Maths, Physics or Chemistry class!
I would often be drawn to giving students 10 min meditation sessions at the start of lessons. And it came to the point where the students would request this.
I always felt the most joyous when I would see a light bulb go off over someone's head, see their eyes open wide with excitement and hope, see them smile, or see them overcome a fear, after talking with me about their troubles, and working through how to overcome them.
Over the past 7 years I have undergone more than 250 hrs of world-class training in personal development, communication and leadership. I have attended dozens of counselling, Reiki, Massage, Naturopathy, Psychotherapy, Cranial Sacral Therapy and Yoga Sessions. I have completed a three year intensive Diploma in Dru Yoga Teaching, and have completed the level of Reiki Master. I have read dozens of books that focus on personal development, mind-body-soul connections, aromatherapy, light therapy, angel therapy, sound therapy, nutrition, cravings, the Law of Attraction, Neuro Science, Psychology, Health and Fitness, Forgiveness, Compassion, Grief, Loss, Reiki, Massage and Chakras.
Through all of this work and research, I have been able to detox my mind and body. I am now meat free, dairy free, egg free, caffeine free, sugar free, drug free, and alcohol free.
This detoxing, regular yoga and meditation practice, and the practice of regular Reiki, has significantly increased my consciousness. I can now experience greater intuition, mindfulness and awareness. And I now have great compassion for all souls that cross my path. This has allowed me to tune into what people need and to heal them a lot more effectively.
Human Happiness is all about empowering humans to be happy.
Using my intuition, I can tune in to what my client needs/ wants at each consultation. This may be any combination of Yoga, Reiki, Meditation, Healing Therapy, Visualisations, and Affirmations.
I am committed to delivering healing, advice, guidance and information at the highest level of respect, integrity, consideration, understanding and professionalism.
I am a member of: Reiki Australia and The Dru Professional Network (DPN)
I have a Diploma in Dru Yoga Teaching, and a third (Masters) degree in Reiki.