Healing Therapy Canberra
What to Expect in your Healing Therapy Session
During your very first Healing Therapy Session, we go through all of the things going on in your life at the moment. Any ailments, issues, illness, aches and pains. And any emotional things that are bugging you. We also take a good snap shot of your family and childhood programming, so that we can get a better understanding of your ego's mechanisms.
In this session we also determine what you really want to achieve in your sessions. We find out what's most important to you at this time. And you're given a full Numerology Reading for yourself, and a quick reading on your nearest and dearest (the detail will depend on how much of an influence each person has had on your current circumstance).
From all of this information, I will be able to give you immediate feedback on why you have found yourself in your current circumstance, and what you can do to alleviate your suffering. We tend to cover a lot of ground in a very short period of time once I have all of the above information.
You're also given a tailored list of simple techniques (such as simple releasing techniques, hand gestures, simple affirmations and yoga postures) that you can start to use as soon as you leave your session.

Almost always in the first session, there's so much ground to cover that we don't get to the Reiki table. It is important though, that we do cover this ground, so you can maximize your chance of a full recovery. The Triad of Healing video can explain this a little further.
And then, once we're ready to start the Reiki Treatment, we will be able to allow your body to begin its healing process, on an energetic level.
If your body is ready for it, and if you're ready to let go of it, in the Reiki Treatments sessions, we will be able to remove negative energy from your body/energy system. And of course you'll also be given a good booster shot of prana (life-force energy) to begin your energetic healing process.
During a Reiki Session, the client lays on their back with their head on a pillow, and usually at least one lightweight blanket over them (depending on their own body temperature and what makes them feel most comfortable). If the client suffers from lower back pain when laying flat, a rolled up blanket is placed under their knees to help alleviate this. If they're unable to lay on their back at all (due to pain or 2nd/3rd trimester of pregnancy), they're given a very comfortable side position for the session.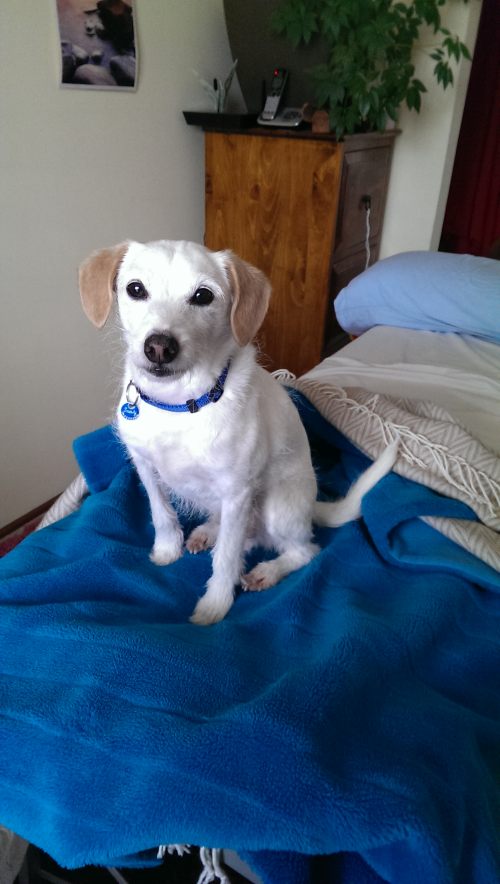 I have a very special little white dog named Snowy, that has, over the past 3 years, become my Reiki Practitioner assistant. He's always overjoyed to see clients arrive at the door, and for the first 6 months, he always fell asleep on top of the blankets, between the client's legs, for the whole session. These days he tends to sleep on the floor near the Reiki Table. Clients find his energy extremely soothing and healing. We have all heard of pet therapy, but Snowy takes this to a whole new level! If you're prepared to embrace the idea, you will find that Snowy is a very special bonus to your treatment.
I always start the Reiki treatment by placing my hands over your eyes. By doing this, I'm able to mirror (in my own body) what's going on in your body. And when I can read your whole body (feel what parts of your body need the treatment) I will know where to put my hands next. Through touch, I can also pick up messages from your Spirit Guides, the Angels, and Ascended Masters, on your behalf. (I also often pick up messages and images from your deceased loved ones).
I then proceed to work my way down the body, placing my hands gently on specific energy centres usually for about 5 minutes at a time. If the messages I get send me to a certain part of your body, then I will proceed to this position fairly quickly.
The video, REIKI - A Complete Introduction can give you some more information about what happens here.
During a session, clients can experience mild pain, tingling, sensations, throbbing or heat in localised areas. This is an indication that negative energy is trying to escape the body. When the client tells me where they feel this (if I haven't picked it up already), I can move to that position and release the negative energy/pain through my hands quite rapidly.
Some clients like to talk about what they're feeling throughout the session, some just like to listen to me talk about what I'm picking up, while others fall asleep. (There's no wrong or right way to experience a Reiki session. I encourage all of my clients to do what feels right for them). Crying, coughing, shaking, hot/cold sensations, a need to swallow and mild agitation are very common as the negative energy comes to the surface to be released. (That being said, others may not feel such strong sensations, but will still receive the healing energy through my hands all the same). All of these symptoms tend to be very short lived because as soon as the energy is identified, I can remove it, if the client is prepared to let it go.
Clients often feel lighter, calmer, very relaxed and at peace throughout and after the sessions.
Over the next week or two, the healing process continues. Each day clients can experience new levels of calm and refreshed feelings. Some more negative energy may start to come to the surface over this time. This is quite normal and usually very mild. It's recommended that clients contact Kylie if they have any concerns about how they're feeling post treatment, and return for their next session within a week or two after their first one, to continue the process. For quite acute issues, it's sometimes recommended that a client comes up to twice a week for the first stage of the healing. And then slowly bring it down to once a week, then fortnightly and then monthly. For most clients, once a week or fortnight for around 5 sessions is usually all they need to reach a point of balance and good emotional, mental and physical health. And then they can continue with a maintenance session once a month (which is a really lovely way to re-align, relax, rejuvenate, boost the immune system and bring overall peace).
Pricing for Healing Therapy Sessions with Kylie
The investment for your first session $240. This includes 2hrs @ $90/hr plus the Numerology-Based Affirmation recordings that are in integral part of your healing journey.
Follow up sessions are either $180 for continued 2hr sessions (this is usually the case for the short term), or $135 for shorter "maintenance" sessions of 1.5hr duration. Most clients need at least 3 - 4 2hr fortnightly sessions to get on top of the bulk of what they're dealing with, before they can reduce the frequency/ duration of their sessions.
Kylie's Availability
I'm available for a Healing Therapy (Reiki) Session at the following time slots:

9:00am - 2:30pm Mon - Fri
I'm no longer available evenings.
I can do some weekends from mid August 2018.
Benefits of Healing Therapy
Healing from Illness, Disease, Injury, and Pain
No matter your ailment, if you're ready to let go of it, Reiki can remove it, and heal you from it.
Healing from all forms of suffering
Relationship issues, trauma, sadness, anger, depression, anxiety, obesity, phobias, fear, grief, guilt, confusion....Healing Therapy can release you from the bondage of these negative experiences.
Overcome Addictions
Healing Therapy can empower you to overcome addictions.
Remove Attachments
Healing Therapy assists in the removal of attachments to people, situations, behaviours and objects that are no longer wanted.
Cleansing
During a Healing Therapy Session, negative energies blocked in the body can be removed and replaced by positive healing light.
Protection
Learn how to protect or shield yourself from negative energies.
Karma Releasing
Invite the body, mind and soul to release Karmic energy from the past using specific Healing Therapy techniques during Reiki Treatments.
Cord Cutting
Achieve freedom from the burden of attachments. Cord cutting can play a significant role in Healing Therapy and Personal Development.
No more Disease or Illness
Manifest a life free from disease and illness through the potent combination of Healing Therapy and Personal Development.
Past Life Regression
Relinquish the bonds and vows made in past lives, through Healing Therapy, to overcome obstacles and realize your dreams.
Terms and Conditions for Healing Therapy Sessions at Human Happiness
Privacy:

All of the information that is shared at Kylie's Healing Therapy sessions is treated as confidential.
Client files are kept under lock and key.
The only time that any information from these files is shared, is if Kylie perceives, in her professional opinion that the client is in danger of causing harm to themselves or others, or putting themselves or others in danger. In this case, she will report the situation to the appropriate health care professionals.
Therapist/ Client Professional Relationship:
Kylie is friendly and approachable, and creates a comfortable, easy-going and professional environment for all of her Healing Therapy Sessions.
She will, on occasion mention her own personal experiences (without mention of names/ details), only when she believes it will benefit the client on their own healing journey.
Kylie will support clients in between sessions with brief emails, text messages and phone calls, when necessary.
Kylie will maintain a professional interaction/ relationship with each of her clients for the duration of their therapy.
Payment for sessions:
Payment can be made by cash, cheque, direct deposit or EFTPOS at the session.
Any delay in payment needs to be negotiated with Kylie prior to the scheduled session.
Invoices (when negotiated) are strictly 7 days.
Cost for sessions is $90/hr.
The first session is always $240. Follow up sessions are $180.
Late Cancellations:
If a client needs to cancel more than 24hrs prior to the commencement of a scheduled session, there will be no cancellations fee, and Kylie will do her best to reschedule at the next mutually convenient time.
If a client needs to cancel less than 24hrs prior to the commencement of a scheduled session, there will be a cancellations fee of 20% of full fee for the scheduled session time, and Kylie will do her best to reschedule at the next mutually convenient time.
If the client fails to show up without informing Kylie beforehand, the full fee for that scheduled session will be charged.
If late cancellations/ no-shows become frequent for any particular client, Kylie may decide to inform this client that she will no longer be made available for therapy sessions with this client. (This is assessed on an individual basis).
For Bookings or to find out more about Healing therapy Contact Kylie.