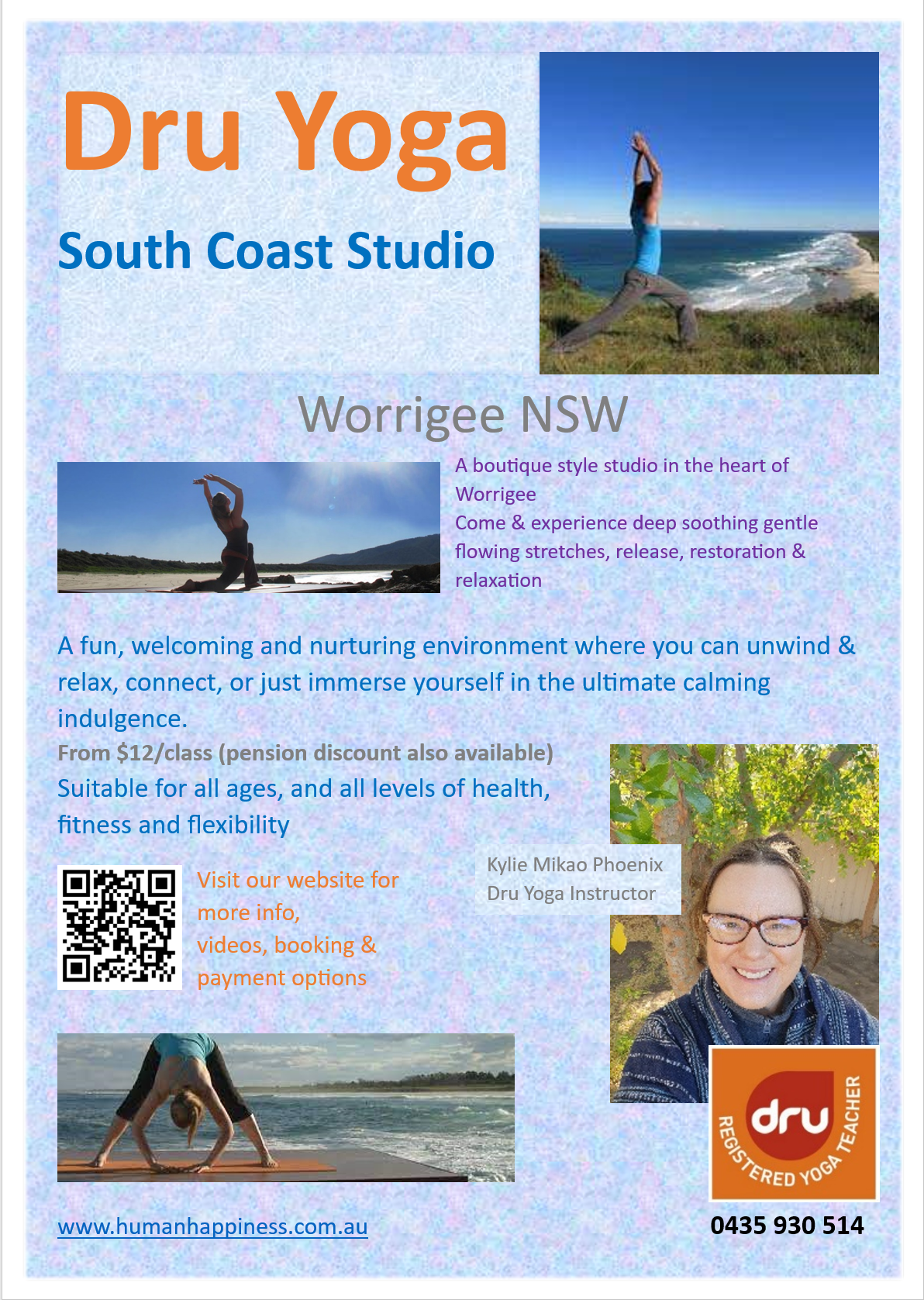 No previous experience required
Suitable for all ages, and all levels of health, fitness and flexibility
A fun, welcoming and nurturing environment
Kylie's teaching a Dru Yoga class every
Monday 5:30pm - 6:30pm,
Wednesday 5:30pm - 6:30pm &
Friday 10am - 11am
(These times may be changed - depending on demand/needs of students)
All welcome!
A Meditation class is also taught, usually in line with the Moons.
$20 for a casual visit OR
$150 for a 10-class pass (You have 11 weeks to use your 10-class pass) OR
$120 for a 10-class pass (You have 6 weeks to use this 10-class pass)
Also a 5% discount for pensioners/veterans with a valid card (use discount code CONCESSION2023 at checkout. You just need to show your concession card at the first class that you attend)
Casual Yoga Class Pass $20.00
Pay Now
10 Class-Pass (11 week option) $150.00
Pay Now
10 Class-Pass (6 week option)

$120.00
Pay Now
Other info about the classes
No previous experience is required.
Dru yoga is suitable for all ages, and all levels of health, fitness and flexibility (all classes can be done from a chair, or even a wheelchair).
Always a fun, welcoming and nurturing environment
Arrive 10 – 15 min early on your first visit, to get your bearings and say G'day!
BYO Yoga mat & water bottle, & wear comfortable clothing
More about Dru Yoga
Dru Yoga is a Heart-centered yoga that enables significant improvement in general peace of mind, health, wellbeing and happiness.
"Dru Yoga is a graceful and potent form of Yoga, based on soft flowing movements, (postures), directed breathing and visualisation"
It is suitable for all ages, fitness levels, body shapes and abilities, leaving participants feeling revitalised, strong, calm and refreshed.
Dru Yoga can relieve a range of symptoms including:
stress
pain
bad habits
fear
depression & anxiety
grief
sadness
anger
frustration
insomnia
It also encourages:
flexibility
balance
calmness
clarity
creativity
vitality
determination
motivation
compassion
joy
peace
mindfulness
poise and focus.
Efficacy of yoga
In 2005, 450 graduates and participants in Dru Yoga Courses all over the world were asked about the effects of their practice.
72% found Dru Yoga reduced back pain
93% experienced improved spine flexibility
86% enjoyed increased energy levels
89% experienced improved breathing with yoga
89% can now reduce and control stress levels
81% have greater confidence and self-empowerment
84% benefited from enhanced mood since practising Dru Yoga
83% felt emotionally balanced
91% gained peace of mind by overcoming negative thinking
See http://www.dru.com.au/dru-yoga for more information and research.
Kylie is an approachable, engaging, and empowering Dru Yoga instructor.
To find out more about Dru Yoga Contact Kylie.
Benefits of yoga
Stress Relief
Particular sequences and postures from Dru Yoga can be used to help alleviate stress.
Peace of Mind
With the directed breathing techniques, visualisations and deep relaxation in Dru Yoga, peace of mind can be easily obtained.
Pain Relief
With its gentle flowing sequences, Dru Yoga can remove blockages in the body's spine and energy system, which in turn can remove the symptoms of pain. Particularly back pain.
Flexibility and Strength
The activations, sequences and postures in Dru Yoga encourage flexibility and strength.
Mindfulness
With an emphasis on directed breathing during each flowing sequence, and with visualisation and meditation, Dru Yoga can enable a considerably heightened level of mindfulness.
Energy and Vitality
Dru Yoga releases blockages in the body and clears the channels in the spine and other systems of the body, generating energy and vitality.
Deep Relaxation
Deep relaxation during a Dru yoga or Reiki session, can promote feelings of vitality and rejuvenation.
Insomnia
Alleviate insomnia using the potent combination of simple Dru Yoga postures and Reiki.
Anxiety and Depression
Alleviate symptoms of anxiety and depression through the powerful combination of Dru Yoga and Reiki.
For Bookings or to find out more about Dru Yoga Contact Kylie.
Testimonials for Kylie's Dru Yoga Classes
In the 6 months I have been attending Kylie's Tuesday evening yoga session, I have improved my physical health and my personal outlook is filled with positivity, self-confidence and happiness. Kylie encourages all members of the class, gives insight into what is happening around us and ensures that we are all comfortable and at ease. Tuesday is the highlight of our week and I wouldn't hesitate to recommend Kylie's sessions to anyone
Belinda (Public Servant - Canberra)
I love my weekly yoga experience and the effect on me has been profound. I am more grounded, calm and relaxed. When I walk out of a session I feel like I am floating on air. Carolyn
(Public Servant - Canberra)
Yoga started as a flexibility, back strengthening and exercise in my retirement. But it has also given me rewards in friendships with like-minded people and renewal strength and faith for managing past and future aspects of life.
Helen (Retired nurse - Canberra)
Doing yoga regularly has been very beneficial. Kylie clearly explains how to perform the postures and the benefits we receive from each EBR. Kylie's yoga studio has a great atmosphere and Kylie is an encouraging and supportive teacher.
Fiona (Teacher - Canberra)
I attend Kylie's Dru yoga sessions once a week. I have anxiety and I feel dru yoga is really helping to connect to my inner calm/peace. Kylie is such an uplifting person to be around and the yoga environment is always a calm, warm place to be. Thankyou Kylie.
Laura (Barista - Canberra)
I began yoga with Kylie late last year. I come to class in a very agitated state and depart a lovely relaxed human being. Yoga is now a vital and positive aspect of my life. It is something that I look forward to on a weekly basis.
Anne (retired)
I have been doing Dru yoga with Kylie for nearly six months. Since doing this, I have been able to find a space of calmness and clarity within myself even when I am facing challenging times. Kylie is amazing. She is a gentle, inclusive and intuitive yoga instructor. I recommend her classes highly.
Larissa (Public Servant and mother of young child)
For Bookings or to find out more about Dru Yoga Contact Kylie.

Kylie Mikao Phoenix is a Registered Dru Yoga Teacher and is a Member of the Dru Professional Network DPN.