Healing Therapy
Be listened to and truly heard.
Be understood, accepted, acknowledged and reassured for all you've experienced and for what you're currently dealing with.
Receive tangible, practical and effective understanding, insight and solutions to the obstacles that are in your way, after only 4 hours of sessions.
The Healing Therapy Steps
Numerology-based Affirmations Recording: re-programs your subconscious so it can see itself and the world from a more positive perspective. Gets you into a good head space to begin your healing journey.
Healing Therapy consult sessions: reveals to you the reasons/patterns/old programming behind your current issues. Gives you improved awareness & understanding of your situation and your relationships. Also used for data collection for steps 3, 4, 6 & 8.
Full Numerology Reading: gives you profound insight into your life challenges & obstacles (why you have attracted certain relationships & issues) and your life purpose (what you're really here to do).
Body-Mind analysis sheet: a list of each ailment you're currently dealing with, and the emotions linked to these particular ailments.
Forgive and Forget formula: stops your subconscious from continually sabotaging you (a self-administered healing technique).
Emotional Freedom Technique (EFT): removes deeply buried emotions from your meridians (a self-administered "acupuncture session" on your emotions – no needles necessary 😊). Takes the "sting" out of your past hurts.
Reiki: removes deeply buried emotions from and heals and balances your chakras. In turn healing your body, mind and soul via your Chakras.
Distance Reiki in combination with Ho'oponopono: removes all forms of energy associated with your old programming, from all levels of your being.
Kylie Specialises in...
Relationships including love relationships, family, work, friends
Parenting including managing child/adolescent behaviour, and supporting development and education
Conflict resolution including workplace/school bullying and relationship breakdown
Mental Illness including anxiety, depression, anger disorder, OCD, and addictions
Weight Loss including emotional eating and healing from childhood trauma/ abuse
What to Expect in your Healing Therapy Session
During your very first Healing Therapy Session, we go through all of the things going on in your life at the moment. Any ailments, issues, illness, aches and pains. And any emotional things that are bugging you. We also take a good snap shot of your family and childhood programming, so that we can get a better understanding of your ego's mechanisms.
In this session we also determine what you really want to achieve in your sessions. We find out what's most important to you at this time. And you're given a brief Numerology Reading for yourself, and a quick reading on your nearest and dearest (the detail will depend on how much of an influence each person has had on your current circumstance).
From all of this information, I will be able to give you immediate feedback on why you have found yourself in your current circumstance, and what you can do to alleviate your suffering. We tend to cover a lot of ground in a very short period of time once I have all of the above information.
You're also given a tailored list of simple techniques (such as simple releasing techniques, hand gestures, simple affirmations and yoga postures) that you can start to use as soon as you leave your session.
Almost always in the first session, there's so much ground to cover that we don't get to the Reiki table. It is important though, that we do cover this ground, so you can maximize your chance of a full recovery. The Triad of Healing video can explain this a little further.
And then, once we're ready to start the Forgive and Forget, EFT, Ho'oponopono and Reiki Treatments, we will be able to allow your body to begin its healing process, on an energetic level.
If your body is ready for it, and if you're ready to let go of it, with these treatments, we will be able to remove negative energy from your body/energy system. And of course, you'll also be given a good booster shot of prana (life-force energy) to begin your energetic healing process.
What is a face to face Reiki session like?
During a face-to face Reiki Session, the client lays on their back with their head on a pillow, and usually at least one lightweight blanket over them (depending on their own body temperature and what makes them feel most comfortable). If the client suffers from lower back pain when lying flat, a rolled-up blanket is placed under their knees to help alleviate this. If they're unable to lay on their back at all (due to pain or 2nd/3rd trimester of pregnancy), they're given a very comfortable side position for the session.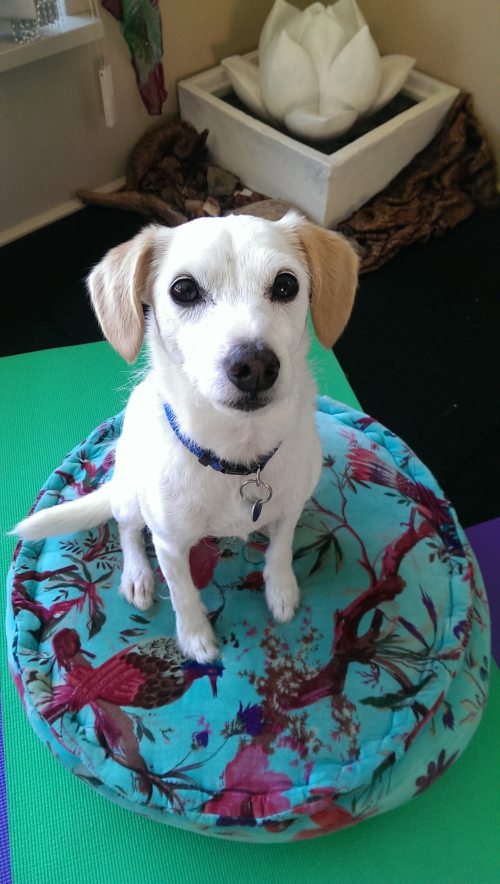 I have a very special little white dog named Snowy, that has, over the past 7 years, become my Reiki Practitioner assistant. He's always overjoyed to see clients arrive at the door, and for the first 6 months, he always fell asleep on top of the blankets, between the client's legs, for the whole session. These days he tends to sleep on the floor near the Reiki Table. Clients find his energy extremely soothing and healing. We have all heard of pet therapy, but Snowy takes this to a whole new level! If you're prepared to embrace the idea, you will find that Snowy is a very special bonus to your treatment.
I always start the Reiki treatment by placing my hands over your eyes. By doing this, I'm able to mirror (in my own body) what's going on in your body. And when I can read your whole body (feel what parts of your body need the treatment) I will know where to put my hands next. Through touch, I can also pick up messages from your Spirit Guides, the Angels, and Ascended Masters, on your behalf. (I also often pick up messages and images from your deceased loved ones).
I then proceed to work my way down the body, placing my hands gently on specific energy centres for at least 5 minutes at a time. If the messages I get send me to a certain part of your body, then I will proceed to this position fairly quickly.
The video, REIKI - A Complete Introduction can give you some more information about what happens here.
During a session, clients can experience mild pain, tingling, sensations, throbbing or heat in localised areas. This is an indication that negative energy is trying to escape the body. When the client tells me where they feel this (if I haven't picked it up already), I can move to that position and release the negative energy/pain through my hands quite rapidly. This is a very safe process when the practitioner is properly trained on how to ground negative energies.
Some clients like to talk about what they're feeling throughout the session, some just like to listen to me talk about what I'm picking up, while others fall asleep. (There's no wrong or right way to experience a Reiki session. I encourage all of my clients to do what feels right for them). Crying, coughing, shaking, hot/cold sensations, a need to swallow and mild agitation are very common as the negative energy comes to the surface to be released. (That being said, others may not feel such strong sensations, but will still receive the healing energy through my hands all the same). All of these symptoms tend to be very short lived because as soon as the energy is identified, I can remove it, if the client is prepared to let it go.
Clients often feel lighter, calmer, very relaxed and at peace throughout and after the sessions.
Over the next week or two, the healing process continues. Each day clients can experience new levels of calm and refreshed feelings. Some more negative energy may start to come to the surface over this time. This is quite normal and usually very mild. It's recommended that clients contact Kylie if they have any concerns about how they're feeling post treatment and return for their next session within a week or two after their first one, to continue the process. For quite acute issues, it's sometimes recommended that a client comes up to twice a week for the first stage of the healing. And then slowly bring it down to once a week, then fortnightly and then monthly. For most clients, once a week or fortnight for around 5 sessions is usually all they need to reach a point of balance and good emotional, mental and physical health. And then they can continue with a maintenance session once a month (which is a really lovely way to re-align, relax, rejuvenate, boost the immune system and bring overall peace).
You can now book your own one-on-one Reiki/Ho'oponopono combo Healing session as face-to-face or as a distance healing session.
This can be a one-off session, or lead into several sessions over whatever period of time you desire, or the full Healing Therapy package. Totally up to you.
You can get Kylie to focus the healing on any particular illness, ailment or issue you may be experiencing at this time.
Reiki enables the body to heal from all physical, mental and emotional ailments. It soothes aches and pains (inc. migraine, joint, muscular & arthritic), enables the self-healing of disease & illness, speeds up the healing of wounds & surgical cuts, manages insomnia, anxiety, depression & all other mental health issues, and so much more.
Ho'oponopono removes the programs from all levels of your being, that have been holding you back, and causing all of the above ailments and issues.
This can be face-to-face or over distance.
Just contact Kylie to organise a time.
For

one off sessions over distance

(not face-to-face)

Pay Now

For an

Initial 2hr face-to-face/zoom consult
Pay Now

For the

Premium Package

(see below)

Pay Now
For the Essential Elements Package (see below)
Pay Now
If you carry a valid concession card use the code: CONCESSION2022 to receive your 20% discount. (Your concession card needs to be sighted before sessions can commence).
Testimonials for Healing Therapy Sessions with kylie
Kylie's insight and knowledge of the workings of my subconscious and ego have given me a new direction and understanding of life.
Thank you, Kylie.
Regards M Russell - Canberra
I am a 65-year-old woman and like a lot of people around my age, we have fears and anxieties which can feel quite daunting. I started to visit Kylie over a year ago. I have found her a wonderful guide and reassuring soul.
I've had a number of problems from my earlier years which she has helped me put a different prospective into my thinking. I had an overwhelming feeling of being 'stuck' and no foresight into my future. I have had 4 sessions of Ho'oponopono which I found remarkable. I'm starting to move, make decisions and plans for the future and realising this is 'my time' and to do what is right for 'me'.
Kylie is a professional in her field and I would highly recommend a consultation. It's been life changing for me.
Meeting Kylie for the first time I was very shy and scared, I had very low self-esteem and felt useless/unwanted. Through my healing sessions with Kylie, I not only came alive again, I came to know myself better for the first time – and in doing so found love again. Many wonderful transformations have happened, each time I've had a session, I've felt better and better about myself. Kylie's given me self-healing tasks to work on. Most days now, I wake from sleep and have a smile on my face even before I've opened my eyes to greet the day. The difference in me is like night and day. Kylie is an extraordinary individual, being the ever consummate professional, bringing not only beautiful intuition and deep compassion to her sessions but also true empathy, authentic presence and joyful warmth to the healing process. If you have found these words then take comfort in knowing you are in good hands and if you choose to have sessions, then, it is, quite simply, a journey like no other! Enjoy
I completed the Reiki 1 and 3 courses with Kylie and would highly recommend anyone taking their first steps on the self-help and healing path or experienced practitioners wanting a top up of energy to attend a session with Kylie.
Kylie has helped me greatly in the last year. I have been through many changes and some challenging times. Kylie has helped me with numerology, Reiki and affirmations. Not to mention the fantastic yoga sessions. Kylies work has been a godsend to me in this difficult time and I appreciate her very much. Thank you, Kylie.
Whom do you turn to when your doctor can't help?
Kylie showed an almost instant, drug free way to handle panic attacks, insomnia and head pain.
On a recent doctor's consultation my Dr said " you will need a repeat script" she was most surprised when I said "no thank you, I don't need them any more" "I have learned a more effective method"
Following Kylie's initial sessions I was given a number of effective methods that I use in my own home to maintain my health but I know if I am unable to focus she is only a call away.
Thank you, Kylie,
"I was feeling really stuck when I contacted Kylie and for the first time I really felt understood. She helped decode so many deeper truths within myself that I had no idea were lurking in the background dictating my current life. After only 2 sessions of Ho'oponopono I felt my entire being shift into better alignment with these new-found truths and understandings. The healing has been hugely impactful in such a positive way. I am feeling so much stronger and aware with a new sense of clarity and direction. I would confidently recommend Kylie to absolutely anyone!"
Monique - Melbourne
I was dealing with a whole lot of things when I was drawn to do a course run by Kylie.
Kylie is a wonderful, kind hearted, beautiful and gifted soul with an incredible energy and gift to heal. Her passion and commitment to her clients and Human Happiness is amazing and inspirational.
My experience with Kylie has been real, honest and spot on. She has helped me and my family to heal, face to face as well as from a distance.
I highly recommend reaching out to Kylie for anyone feeling like they need any sort of healing. Her beautiful energy will infuse you with gentleness and love that is both powerful and cleansing.
Thank you, Kylie!
I went to Kylie a couple of years ago because I was wondering why I was not able to foster a healthy relationship. Kylie is intuitive and uses a range of tools and techniques that have helped me work through things and heal. The work I have done over the last couple of years with Kylie has helped me navigate, enhance and reshape my personal relationships and improve my self-esteem. I now feel happier, more authentic, plus I have some fantastic relationships
Kylie has helped me to understand events in my life by explaining my numerology and the numerology of others from my life. She has given me the tools to take ownership of what has happened in my life and release that which no longer serves me. These tools have allowed me to start letting go of fears, anger and resentment and replace them with love and compassion. I am more clear about my life and how I can attract what I really want. Kylie explained Ho'oponopono and I was very accepting of this practice to be performed on me. My experience was a release of emotion both mentally and physically which at the time was very much needed. Thank you, Kylie.
Kylie has been able to facilitate insight and awareness into the root causes of my issues. She has the amazing ability to make you feel safe when you are feeling emotionally vulnerable and exposed. She has provided me with so much guidance and healing and I am so grateful for her help.
"I have been going through healing therapy with Kylie for a bit now and have been in the process of opening closed wounds so I can heal properly. I went through some hard times when facing my darkness, but can happily say that after my Ho'oponopono session, the universe has been kind to me again and feel happy and fortunate with the blessings I have received. I have been able to focus more at work and my personal life has never been better than right now, thank you Kylie."
I am a 66 yr female and am going to Kylie for therapy. I have been introduced to Ho'oponopono and the affirmation recordigs. I have found them to be of great help with my healing. I would recommend Kylie to anyone as she is very gifted and has a beautiful caring nature. Once you go to Kylie you will never look back.
I first met Kylie via her Reiki 1 course and continued with Reiki 2. I then saw her for help with improving the relationship with my partner. I found Kylie to be kind and helpful, and she provided me with insights and useful tools.
Cheryl - Canberra
I have had the pleasure of experiencing Kylie's healing treatments over the last 12 mths. Kylie is a gifted healer and a compassionate soul. I would recommend her to anyone and believe her work is greatly needed in today's society!
Mel – Country NSW
Pricing for Healing Therapy Sessions with Kylie
A 20% discount is given to pensioners, veteran's affairs, seniors, NDIS participants and Health Card holders (valid cards needs to be shown).
The investment for your first session $360. This includes 2hrs @ $100/hr plus payment for the preparation of your unique EFT sentences, plus the Numerology-Based Affirmation recordings that are in integral part of your healing journey.
The Healing Therapy Steps - Price List
Numerology-based Affirmations Recording $60
Healing Therapy consult sessions $100/hr
Full Numerology Reading $150
Body-Mind analysis sheet $60
Forgive and Forget formula (part of step 2)
Emotional Freedom Technique (EFT) (preparation of most potent sentences for client to use $100)
Reiki (part of step 2) $100/hr
Distance Reiki in combination with Ho'oponopono $100/session
Steps 1, 2, 5, 6, and 8 are the five essential elements of the Healing Therapy package.
Only one step done in isolation won't have lasting effects (step 8 being an exception to this rule).
Steps 3, 4 and 7 are optional extras.
If purchased as a full package, a 10% discount is offered.
Payment plans are now available for Package options below. You can now receive your full Healing Therapy package from as little as $73.38/wk for 13 weeks (see below).
Package option 1: Premium package including 13hrs of consultation/distance healing/Reiki sessions with Kylie + essential elements 1, 5 and 6, and a full Numerology reading and Mind-Body analysis sheet. Total cost = $1670 Less 10% = $1503
Payment plan option for Premium Package = Upfront payment of $360 + $87.92/wk for 13 weeks (only available as a direct deposit option directly from your bank account - Kylie can set this up as an automatic weekly deduction from your account from a secure online direct debit facility, after you approve it)
Package option 2: Essential Elements package including 13hrs of consultation/distance healing/Reiki sessions with Kylie + essential elements 1, 5 and 6. Total cost = $1460 Less 10% = $1314
Payment plan option for Essential Elements Package = Upfront payment of $360 + $73.38/wk for 13 weeks (only available as a direct deposit option directly from your bank account - Kylie can set this up as an automatic weekly deduction from your account from a secure online direct debit facility, after you approve it)
How many hours will I likely need?
The initial session is scheduled for 2hrs, and is $360.
This covers the session $200, the EFT sentences $100, and the Numerology Based Affirmation Recordings $60.
After that, the sessions are $100 per hour.
Most people have the following scenario for their Healing Therapy:
Week 1: Initial 2hr session $360
Week 3: Follow up 2hr session $200
Week 4: EFT Sentences 1hr session $100
Week 5: 1hr Distance Healing session $100
Week 6: 1hr Distance Healing session $100
Week 7: 1hr Distance Healing session $100
Week 8: 1hr short follow up session $100
Week 9: 1hr Distance Healing session $100
Week 10: 1hr Distance Healing session $100
Week 11: 1hr Distance Healing session $100
Week 12: 1hr short follow up session $100
By this stage, most people are at the point where they are starting to see significant differences.
Some choose to continue beyond these 13 hours.
Every person heals at a different pace, and so there is no hard and fast rule on when the regular therapy finishes.
Also, some people come back for "maintenance" distance healing sessions, whenever they feel they need them, too.
Kylie's Availability
I'm available for a Healing Therapy (Reiki) Session at the following time slots:

10am - 2:30pm Mon - Fri
Distance healing sessions are usually scheduled at 11am daily.
Some weekends.
Availibility different during school holidays. Go to Bookings to see times available or contact Kylie to organise a booking.
Benefits of Healing Therapy
Healing from Illness, Disease, Injury, and Pain
No matter your ailment, if you're ready to let go of it, Reiki can remove it, and heal you from it.
Healing from all forms of suffering
Relationship issues, trauma, sadness, anger, depression, anxiety, obesity, phobias, fear, grief, guilt, confusion....Healing Therapy can release you from the bondage of these negative experiences.
Overcome Addictions
Healing Therapy can empower you to overcome addictions.
Remove Attachments
Healing Therapy assists in the removal of attachments to people, situations, behaviours and objects that are no longer wanted.
Cleansing
During a Healing Therapy Session, negative energies blocked in the body can be removed and replaced by positive healing light.
Protection
Learn how to protect or shield yourself from negative energies.
Karma Releasing
Invite the body, mind and soul to release Karmic energy from the past using specific Healing Therapy techniques during Reiki Treatments.
Cord Cutting
Achieve freedom from the burden of attachments. Cord cutting can play a significant role in Healing Therapy and Personal Development.
No more Disease or Illness
Manifest a life free from disease and illness through the potent combination of Healing Therapy and Personal Development.
Past Life Regression
Relinquish the bonds and vows made in past lives, through Healing Therapy, to overcome obstacles and realize your dreams.
Terms and Conditions for Healing Therapy Sessions at Human Happiness
Privacy:
All of the information that is shared at Kylie's Healing Therapy sessions is treated as confidential.
Client files are kept under lock and key.
The only time that any information from these files is shared, is if Kylie perceives, in her professional opinion that the client is in danger of causing harm to themselves or others, or putting themselves or others in danger. In this case, she will report the situation to the appropriate health care professionals.
Therapist/ Client Professional Relationship:
Kylie is friendly and approachable, and creates a comfortable, easy-going and professional environment for all of her Healing Therapy Sessions.
She will, on occasion mention her own personal experiences (without mention of names/ details), only when she believes it will benefit the client on their own healing journey.
Kylie will support clients in between sessions with brief emails, text messages and phone calls, when necessary.
Kylie will maintain a professional interaction/ relationship with each of her clients for the duration of their therapy.
Payment for sessions:
Payment can be made online in the booking site, by cash, cheque, direct deposit or EFTPOS at the session.
Any delay in payment needs to be negotiated with Kylie prior to the scheduled session.
Invoices (when negotiated) are strictly 7 days.
Cost for sessions is $100/hr.
The first session is always $360. Follow up sessions are $200.
Late Cancellations:
If a client needs to cancel more than 24hrs prior to the commencement of a scheduled session, there will be no cancellations fee, and Kylie will do her best to reschedule at the next mutually convenient time.
If a client needs to cancel less than 24hrs prior to the commencement of a scheduled session, there will be a cancellations fee of 20% of full fee for the scheduled session time, and Kylie will do her best to reschedule at the next mutually convenient time.
If the client fails to show up without informing Kylie beforehand, the full fee for that scheduled session will be charged.
If late cancellations/ no-shows become frequent for any particular client, Kylie may decide to inform this client that she will no longer be made available for therapy sessions with this client. (This is assessed on an individual basis).
Bookings
Book first session using the green button below only.